HOME OF THE EXCLUSIVE COLUMBUS MOTOR COMPANYLIMITED LIFETIME POWERTRAIN WARRANTY
HOME OF THE EXCLUSIVE COLUMBUS MOTOR COMPANY
LIMITED LIFETIME POWERTRAIN WARRATY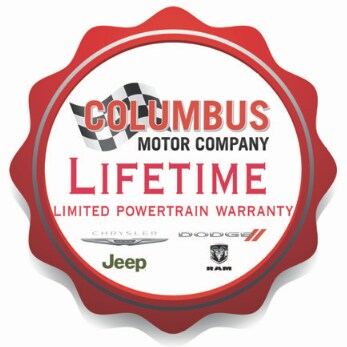 Available on all New and Certified Pre-Owned Chrysler, Dodge, Jeep, and Ram vehicles from Columbus Motor Company. Purchase a New or Certified Pre-Owned Chrysler, Dodge, Jeep, or Ram from Columbus Motor Company and you will receive a limited lifetime powertrain warranty with unlimited time and unlimited miles at no charge to you.
DURATION
A Columbus Motor Company LIMITED LIFETIME POWERTRAIN WARRANTY is valid from the original vehicle sale date, throughout the original customer's lifetime or until the customer no longer owns the vehicle.
Coverage
This is an inclusionary warranty, which means only named components are covered. The warranty is limited to these listed parts.
Engine
Cylinder block, cylinder head(s), rotor housings and their internal parts, intake manifold, exhaust manifold(s), timing gears, timing chain(s) or belt(s), timing chain or belt tensioner(s) and timing chain or belt cover, valve cover(s), flywheel or flexplate, ring gear, harmonic balancer, oil pump, vacuum pump, water pump, oil pan, turbocharger or supercharger housing(s) and their internal parts, waste gate, intercooler, engine mounts, and EGR valve.


transmission /transfer case /all-wheel drive assembly
Transmission case, transaxle case, transfer case and their internal parts, torque convertor, vacuum modulator, cooler and metal cooler lines, transmission mounts, slave cylinder and master cylinder of a manual transmission clutch assembly.
DRive train assembly
Final drive and axle housing(s) and their internal parts, axle shafts and bearings, universal and constant velocity joints, drive shaft(s), center bearings and drive shaft yokes, four-wheel drive engagement actuator/motor, traction control linkage, solenoids, control processor and sensors, and 4x4 locking hub. Front-wheel drive and rear-wheel drive.
Deductible
The deductible is the amount the customer must pay for each covered repair.
RegistrATION date
A $0 deductible applies for the first 5 years, from original In Service date or 60,000 miles. After 5 years or 60,000 miles a $300 deductible applies.
NON-COVERED CONDITIONS
The Limited Lifetime Powertrain Warranty does NOT apply to:
OWNER'S RESPONSIBILITIES
If the owner fails to maintain the vehicle according to the requirements below, coverage under the Limited Lifetime Powertrain Warranty will be restricted or denied.
VEHICLES EXCLUDED FROM LIMITED LIFETIME POWERTRAIN WARRANTY
Leased vehicles, See dealer for current exclusions.
FILING A CLAIM
1. It is the owner's responsibility to maintain and service the vehicle. Owner shall return the vehicle to Columbus Motor Company to determine the problem and the cause of mechanical failure. If this is not possible, call the plan Administrator for instructions.
2. Owner must authorize any charges necessary to determine the cause of the failure. This includes necessary diagnostic and teardown charges.
TERRITORY
The Limited Lifetime Powertrain Warranty provides coverage in the United States, including its territories and possessions, and Canada only for failures due solely to the mechanical failure of a Covered Part.
CANCELLATION AND TRANSFER EXCLUSIONS
The Limited Lifetime Powertrain Warranty is issued by Columbus Motor Company only and not by the manufacturer of the Vehicle. The Limited Lifetime Powertrain Warranty is neither cancelable nor transferable. The Limited Lifetime Powertrain Warranty is included without additional cost as part of the purchase price of the Vehicle.
CLAIMS REQUESTS
Contact Columbus Motor Company for claims and claim information requests.
If you have any questions, please call us toll free at 402-835-0347
Thank You,
Columbus Motor Company